Amazon review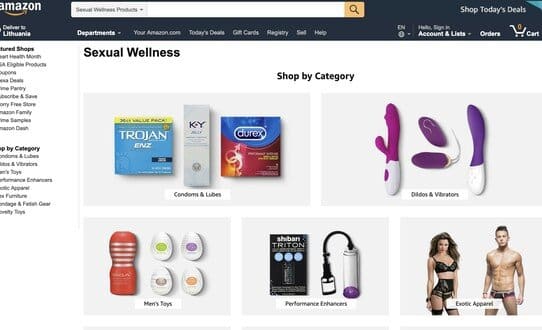 The Good
Large number & variety of adult-products

Sorting options & filters

Reviews & product questions

Mobile Support
The Bad
Fake or paid reviews

Many cheap or knock-off items
Amazon has been around for decades, so online shoppers already know that you can find anything and everything here. However, we want to focus on adult and sex-related products such as condoms, toys, and various gear.

To list everything in this category, you'll need to pick the Health & Household section from the drop-down menu next to the search feature, and then find the Sexual Wellness section in the header just beneath it. This will give you a full list of products by category including Condoms & Lubes, Dildos & Vibrators, Exotic Apparel, Performance Enhancers, Men's Toys, Sex Furniture, Bondage & Fetish Gear, and lastly Novelty Toys. In each of these categories, you'll find a range of products both in terms of price and quality. Moreover, you'll see everything from trusted brands to cheap Chinese knock-offs. So why should you buy adult products from Amazon? Because you won't find another online sex shop with as much to offer. Better yet, you can expect to save some cash too, due to various discounts, 2-for-1 offer, and so on.

Besides a huge assortment in this Sexual Wellness category, Amazon.com also offers many useful features, sorting option, and over a dozen filters.. Then, before buying, you can read reviews, ask questions. Furthermore, count on return policies, but always make sure to check the exact details. Lastly, when reading reviews, take everything with a grain of salt, even if they're verified because Amazon sellers have been known to pay for fake or positive reviews. It's best to check a YouTube or blog review too, especially if you want to spend a significant amount of cash.

We love the sheer number and variety of sexual and adult products available in Amazon's Sexual Wellness department, but make sure check return policies and watch out for fake or paid reviews when buying.
Sex Toys Shops simlar to Amazon