RealDoll review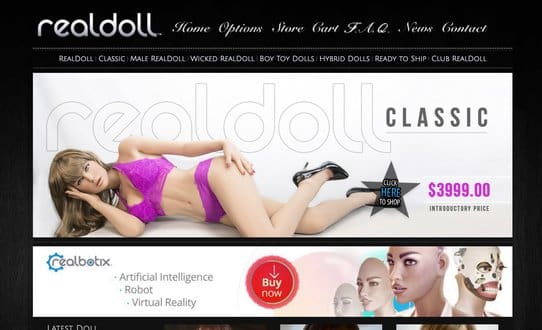 The Good
High-tech, lifesize & lifelike dolls (male & female)

Lots of configuration options

Accessories, repair kits

Fast, easy to use website
Something wrong with the site? Review out of date? Report!
RealDoll.com is a site that sells expertly hand-crafted sex dolls made in the USA from high tech materials that offer the best experience possible although at a relatively steep price. You can choose from a variety of lifelike and life-size, but lightweight female and male dolls and build one tailored to your taste with various configuration options.
To start, there's the RealDoll classic which offers a few customization options (face, eye color, and hair color). The RealDoll version 2 is lighter in weight and uses newer, more advanced materials as well as deeper and removable inserts while offering preconfigured models besides the option to build your own and customize it (pubic hair, nipples, freckles, inserts, hair, makeup, etc).
Those that want a doll with the likeness of Wicked pornstars can choose the Wicked RealDoll (Asa Akira, Samantha Saint, Stormy Daniels, Lupe, Kaylani, Alektra, Jessica) and customize them with a few options. Other models include the limited edition Boy Toy Dolls, the Hybrid series which incorporates various options from different toy lines, the Ready To Ship dolls and Male RealDoll models which have just as many configuration options as female dolls. There are also torsos, extra parts, wearables, doll accessories and repair kits available.
The layout and user interface on RealDoll.com is sleek and modern, without with everything presented and explained clearly. There are sections for each doll model, and all the configuration options are easy to understand. As a bonus, you can use the member forum and watch a few videos.
If you got a few thousand dollars to spare and like lifelike sex dolls, check out RealDoll.com, a site that has male and female models and which offers lots of customization options, parts, and accessories.
Sex Toys Shops simlar to RealDoll
string(16) "http://pplgo.to/"