PerverseFamily review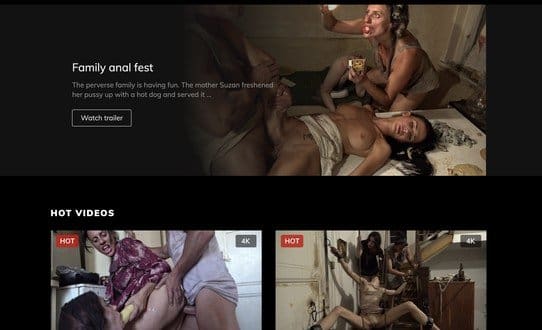 The Good
Original and exclusive content

Depraved mix of BDSM and incest

Up to 4K quality scenes

High-res galleries

Niche site

Mobile Support
The Bad
Small but growing collection

No bonus network access
Something wrong with the site? Review out of date? Report!
PerverseFamily.com is a new premium incest porn site that incorporates different elements of BDSM into exclusive content. Its 4K videos and galleries push the boundaries and make western family porn sites look wholesome in comparison.

There's no trial option at the moment, but you can watch short trailers to get an idea of what the site offers. After that, you can pick from a 30-day ($34.95), 90-day ($74.95), and 180-day membership ($119.95). All options are recurring, and there doesn't seem to be any bonus network access here.

At the moment, you don't get a lot of content, but the site is about a year old, so it's not surprising. What you do get, however, is 4K quality and high-res galleries as the collection expands slowly. You can also stream or download each scene and pick between multiple bandwidths up to Ultra HD.

The thing that sets Perverse Family apart is the regular cast of characters. That includes two sisters, a mother, son, male servant, father, and a very familiar bearded grandpa. However, the decrepit state of their house and their filthy appearance will hit your first. Of course, they're also open to all sorts of messy and wild sex between themselves and occasional guests. Finally, all the actresses are hot and will definitely get you rock hard.

The dark layout of the site fits in perfectly and is relatively easy to use with mobile devices. Each scene comes with a description and tags, but you can also use the basic search. For the amount of content currently available here, that's more than enough user features.

Bottom line, memberships cost a little more than usual, and PerverseFamily doesn't have a lot of content right now, or any bonus access. Still, everything is in 4K, and this collection is very original and expanding, so it might be best to try the site out for a month.
Incest Porn Sites simlar to PerverseFamily
string(16) "http://pplgo.to/"