LoopedXXX review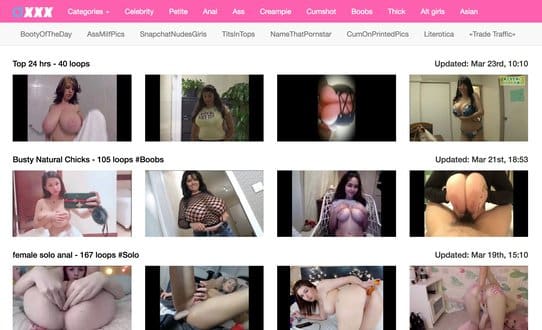 The Good
Thousands of porn GIFs & Webms

Simple, clean, fast website

Free downloads

Content variety

Mobile Support
The Bad
Lacks basic search feature
Something wrong with the site? Review out of date? Report!
Looped XXX, as the name suggests, is a free and simple porn site offering a multitude of different erotic, candid and porn GIFs and Webms, with and without sound, that cut straight to the best parts and let you enjoy them on repeat.
LoopedXXX.com has thousands of loops split into many different categories and subcategories. For instance, these include petite, celebrity, anal, ass, creampie, but the list goes on. You can find Vintage GIFs, Asian & teasing Webms, as well as amateurs, gym girls, femdoms, and camgirls. The subcategories can be pretty specific, but that only makes this site better because you can find virtually anything. Finally, quality is fixed, but decent overall, and visitors can download as much as they want.
Although it has tons of great content, Looped XXX is a simple site with a straightforward layout. As mentioned, there's a list of categories, as well as a few featured ones, and the main page shows different subcategories starting with updated ones first. The only issues you might face is limited pagination and the lack of a basic search feature. Otherwise, the site is very clean, and everything loads quickly.
Despite missing a basic search feature, LoopedXXX is clean, fast, simple, and has lots of great content in many different categories and subcategories. There's thousands of GIFs and Webms here that cover everything and anything porn-related that you might want to watch.
Porn GIFs Sites simlar to LoopedXXX
string(16) "http://pplgo.to/"